You know I have Never met my friend Jean Yates.
But I would love to meet her because yes she is an Author
of this great Jewellery book.
But because she is
such a lovely person. You just get a vibe with
some people and Jeans one of those people.
Two years ago Jean and her
husband grew pumpkins
and measured them daily.
I looked forward every
week to see how big
these pumpkins grew!
Everyone was on their toes to as how big they would get.
Great post I hope she grows some more of them!
She has a great Blog but besides that Jean is always
doing something i
ntresting. This doll I believe
was a design Challenge
she entered for fun.
Something like this will crack
you a smile and
Is this kewpie cute or what? lol.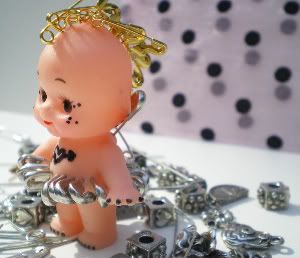 I hope Jean didn't start the dollies
Please check her Blog out about this wonderful
Bracelet on Sale! Jeans Blog is here!